The Two Designers
Bringing together a balance of creativity, Campbell and Hay was formed by contemporaries of Glasgow School Of Art.
Fiona Campbell and Jim Hay share a lifelong passion for design having studied under textile designer Robert Stewart and product designer Dugald Cameron.
Their portfolio includes surface textile pattern, stitched textiles, illustration, painting, letter cutting and stone sculpture.
All their work is individually designed and created by hand.
You can follow the process in their journal from sketchbook to finished design.
Fiona Campbell B.A. Hons., M.A.
Jim Hay B.A.Hons., Post Dip.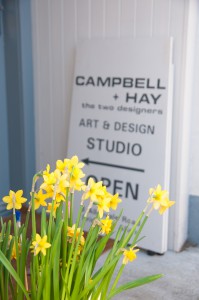 We are members of:
EDGE – Textile Artists Scotland
www.edge-textileartists-scotland.com
British Tapestry Group
www.thebritishtapestrygroup.co.uk